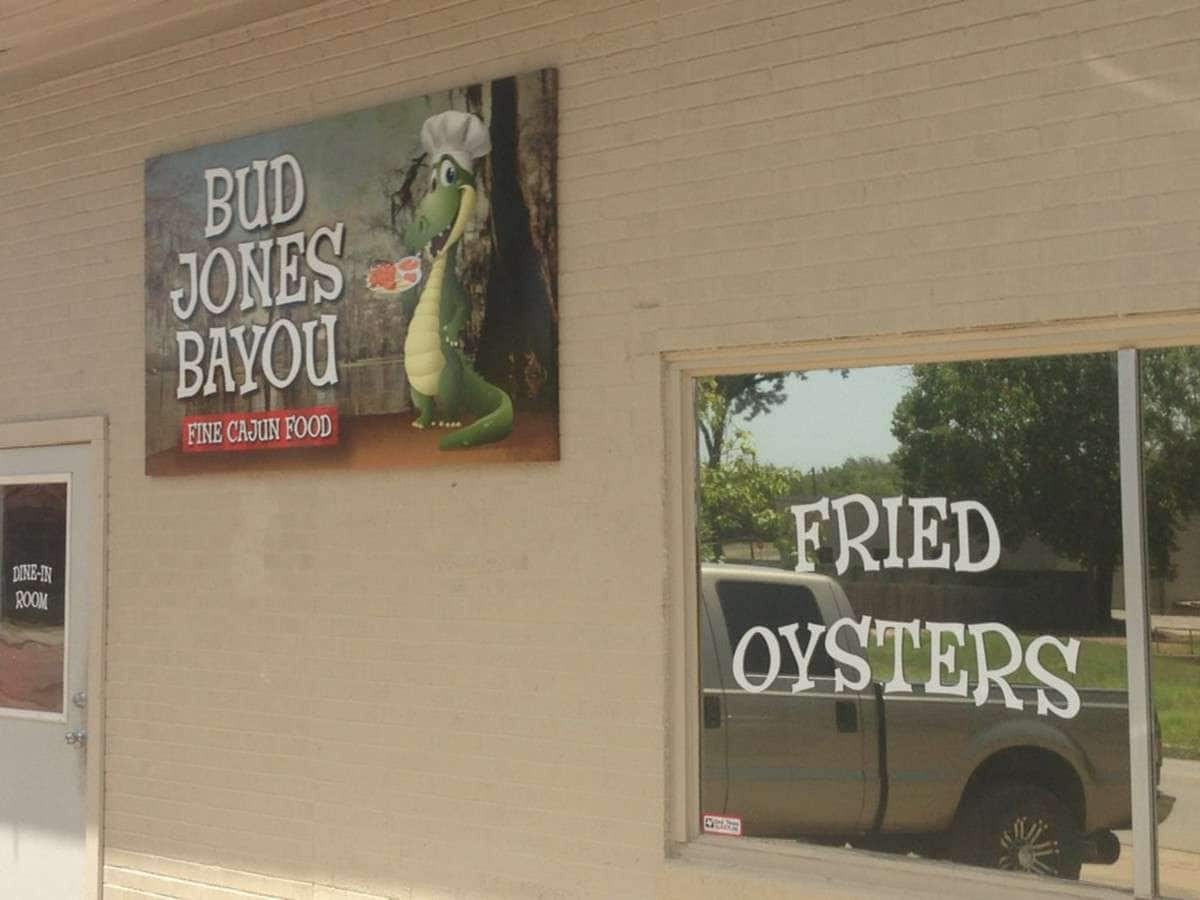 So, you need your car AND your appetite fixed?  Would you believe you can get both issues addressed at the same place?  Just wheel your bucket of bolts over to Bud Jones Garage to drop off your car.  Then walk next door to Bud Jones Bayou.
What all started as a concession trailer next to the garage is now a full-blown restaurant attached to the fixit-shop.  My lunch buddy on this particular visit works in the Tyler Square and, rather than making the short drive, he simply hoofed it down Erwin…so that's good news for downtown workers seeking a little variety.
In my experience, good Cajun joints are few and far between here in East Texas, which is a surprise considering the proximity to Louisiana.  But, I'd say Bud Jones is a good spot to satisfy your hankering for bayou fare.
I went with the Blackened Catfish Po'Boy, served up with Cole Slaw ON THE SANDWICH with a remoulade dressing and it came with a side of onion rings (or french fries, if you're so-inclined).  The sandwich is a good size and, so that I wouldn't ruin date-night that evening, I brought half of it home.
The Po'Boy was very good, with the perfect balance of blackened spices and sweet slaw.  I'd definitely pick that again.
The locals also tell us the hamburgers are very good, as evidenced by the six boxed-up take-out burgers that were awaiting pickup.
If you come early, say 11:45, you'll be able to secure a table througout lunch.  But if you come after noon, say 12:15, you might be standing a bit.  But don't let that scare you off.  Bud Jones Bayou is a good place to eat, a fun place to meet, and an interesting place to discuss ….. even if you're not a quart low!
504 East Erwin
Tyler, TX 75702
903-363-6308
Hours:
Monday: 11 am – 6 pm
Tuesday: 11 am – 6 pm
Wednesday: 11 am – 6 pm
Thursday: 11 am – 6 pm
Friday: 11 am – 8 pm
Saturday: 11 am – 8 pm
Sunday: Closed